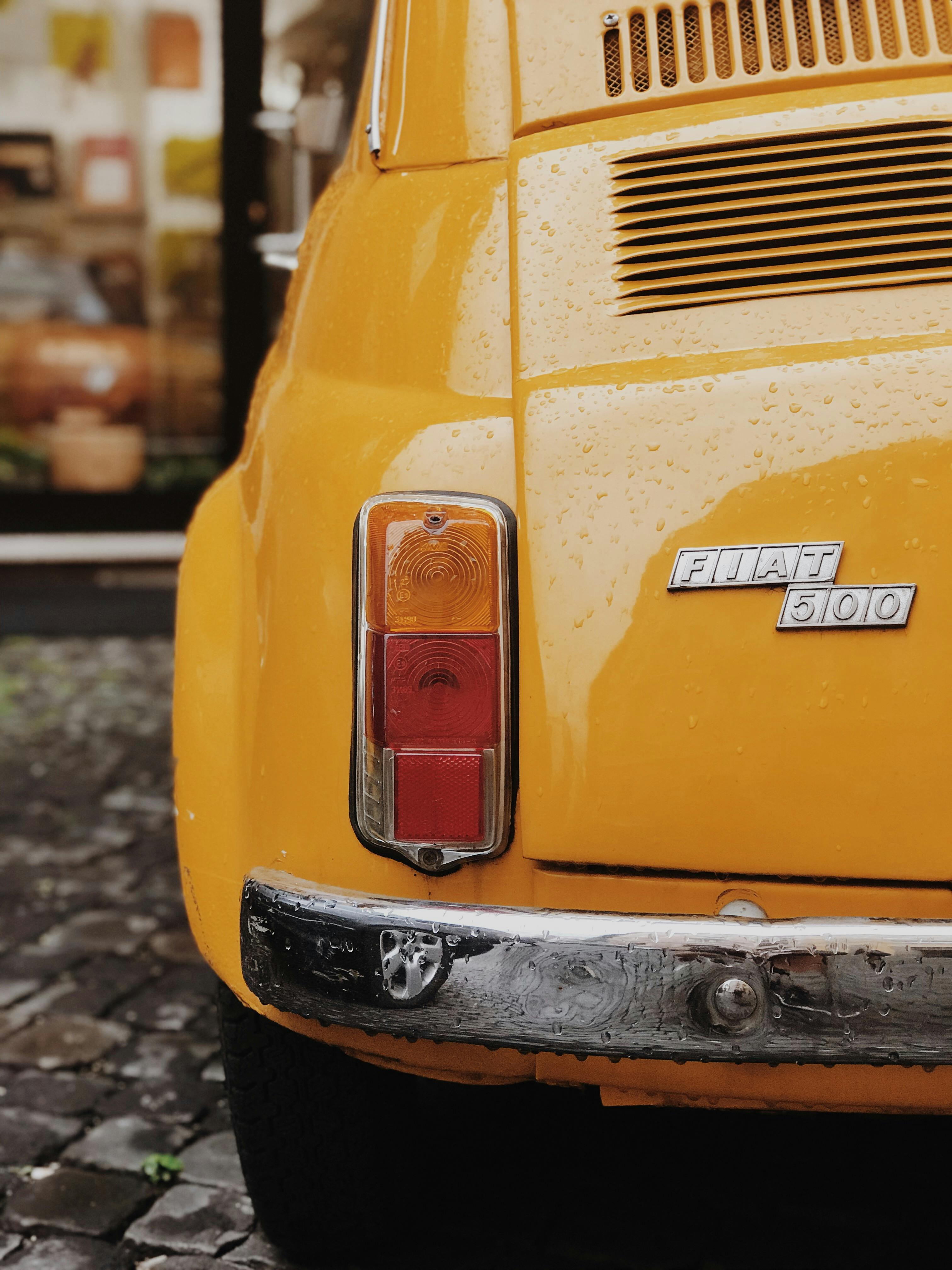 A Fiat classic is a treasured possession for any car enthusiast's needs. By looking at the Fiat logo, you can easily tell that a lot of thought went into making the classic Fiat. Giovanni Agnelli, one of the founding members of FIAT GROUP, is attributed to the group's expansion. Fiat has a history of producing beautiful, everyday cars. The cars were originally produced in Italy but expanded to other Europe, Asia, and North America markets.
Whether it's the fiat 500 with a 4-speed transmission or fiat 1200, lovely vintage never go out of fashion thanks to their timeless designs and incredible workmanship. A classic fiat spider makes an excellent first classic car due to low part costs strong parts availability.
If you're in the market looking for new Fiat classic cars to add to your collection or want to restore your classic fiat car with genuine parts, you're at the right place. MrFiat stocks original auto parts for Fiat and other genuine classic cars for sale. Aside from classic Fiat, we also sell other classic vehicles, including Alpha Romeo, Maserati, and Volkswagen.
Hundreds of Parts for Fiat Classic Cars
MrFiat has hundreds of genuine auto parts in stock. You can check out our catalog of Fiat classic car parts online. We stand behind the quality of the classic fiat parts, the majority of which we source from reputable Italian manufacturers. Call or send us an email today for incredible classic vehicle deals. Our wide inventory of parts cover the following fiat classics:
Trusted Supplier of Classic Fiat Parts
Just like the modern Fiat models, a classic fiat car also needs care and attention to remain in attention and love to remain in the best possible driving condition. At MrFiat, we want you to enjoy your classic Italian car for as long as you can, with our quality parts and spares. By sourcing the right Fiat classic parts and replacing them promptly, your Italian ride will remain in good condition for years. Some car enthusiasts like to tinker with their oldtimers, and others prefer to leave repairs and parts replacement to a local auto repair shop. Whichever route you take, it's comforting to know MrFiat has genuine parts in stock, manufactured and produced specifically for classic cars.
Genuine Fiat Classic Parts and Accessories
You can shop and buy various fiat parts and accessories from our online auto shop. We stock and sell genuine fiat products. Whether you need a rear-engine for 'Nuova' 500 or suicide doors, we've got your back. We stock the following items:
Accessories: White/blue mugs, sports calendar, key chains, photo frames, vintage wallet, traveling bag, chrome trumpet horn, document holder, license plate mounting, parts catalog, luggage rack, spare light bulb case, shrink coating spray, and more.

Body panels: front hood, rear upper, and lower panels. outer wheel casing, panel casing brace, floor pans

Brakes: master cylinder components, rare wheel brakes, front wheel, rear wheel cylinder components, brake compensator and control, brake booster, and components.

Bumpers: Front and rear bumpers, bumper end rubber gasket, license plate brackets, left and right bumper mount, and more

Cables: fan belt, accelerator cable, clutch cable nut, speedometer cable, front hood cable, handbrake cables, starter cables, dashboard control cables with sheath, and more.

Doors: Door gasket end cap, door striker plate, end seals, door catch sets, chrome door handles, door trunk lock cylinders, window regulator motor, door handle gaskets, fender molding, sill moldings, door mounting frames, side view mirrors, and more

Electrical and ignition engine: starter lever, battery cover rubber, horn rubber, starter motor support bracket, distributor cap, hazard light switch, condenser, ignition switch, relays, reverse light switch, starter drive, starter solenoid, heater fan switch, and more.

Emblems: Front and rear emblems made from chrome, plastic, and aluminum, wing set, front grill, pin set, and more.

Exhaust

Glass and seals: trunk gasket, rear windshield gasket, gas tank filler rubber ring, rear soft top hook seal, water drain rubber, upper grill rubber, engine compartment upper and side gaskets, hardtop rear windshield gasket, clear windshield, ventilation window gaskets, top base gasket and more.

Luggage compartment: Jack strap, trunk mat, rubber floor mats, bonnet weatherstrip, under front windshield net, and more

Rims: chrome wheel bolt, polished aluminum, and alloy wheels, wheel mounting guide, wheel hub washer, wheel caps, wheel cap clips, and more.

Roof: roof fabric, top mounting, bolt cap, latch receiver, soft top handles, folding top latch, and more.

Steering wheels: complete grey metal and wooden steering wheels with the hub adapter.

Suspension: Stub axle nut, engine suspension bracket plate, sway bar, leaf spring rubber, rear suspension arms, rear outer axle shaft nut, bumper stops, and more.

Transmission: flexible joint, complete clutch kit, rear axle bearing, clutch discs, clutch lever, differential pinion bearing, output end shaft alignment bushing, propeller shaft, shift rod seals, synchro rings, transmission mount rubber, and more.

Wiper system: wiper hose, electronic windshield wiper pump, wiper nozzles, wiper blades kit, and wiper linkage wiper bag.
All our accessories have a price, so you don't need to send an inquiry email when you start shopping at our online store. Be sure to check our new listings to discover new and rare parts.
How to Shop for Accessories
if you're visiting our online shop for the first time and are wondering how to shop and order auto spares for your classic fiat guide, follow these steps:
Select your Fiat model on the left sidebar

Select the product category on the left

Add the item to the cart or email it to your friend
Looking for European Cars Parts?
MrFiat.com is a leading supplier of hundreds of spare parts for the 4-speed manual and 5-speed manual classics. We are equipped with everything you or your mechanic needs to restore your oldtimer to its former glory. As a repFiatle company with a long list of happy customers, we are sure you will find even the rarest parts for your classic car. Whether you want to upgrade your Classic Fiat or replace worn-out parts, we can supply you with everything a fiat owner requires to ensure their car stays on the road. If you're in the USA and urgently need parts for your lovely vintage care, call 678-637-5103 or contact us online today.